You are not the only hero in Prophesy of Pendor. Across the lands, you may find characters in taverns who will be willing to aid you... for a price.
Companions are much more expensive in Pendor, often costing thousands of denars to hire (Sir Roland, the most expensive companion, costs 8000 denars). However, in most cases, companions are far more advanced than in Native and come with stronger equipment. For example, Lethaldiran is recruited at level 42 and comes with Noldor armor and a Noldor bow and arrows, with weapon proficiencies over 400.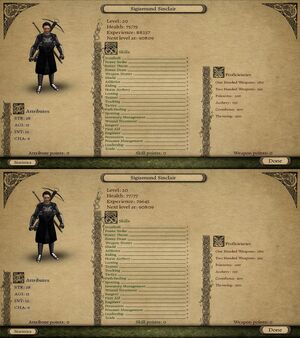 Companions' starting skills and experience are slightly randomized per save file. Attributes, equipment and proficiencies are always fixed.
Every companion will also cost three times as much as a normal troop with the same level, and they will take three times the loot a normal troop will take after every battle. On the other hand, they can be trained and equipped as player decides, they may offer better party skills, be sent to gather Right to rule, they can be assigned to train your Custom Knighthood Order, they can become lords or be sent as emissaries (only if player is Monarch), and they can't be killed, though they can depart if things are not going according to their liking.
Every Companion likes one other Companion and hates two others (first image on this page) and also likes/dislikes certain actions. Often, they will talk to you when you are doing something which they do not like, such as failing quests or running low on food. They will also talk to you when you go near a specific fief (shown in the table below), and tell you a bit about their history and how that particular location relates to it.
For companion prices and making them vassals info, just scroll down to the table. For further information about the companion, like their special recruiting template, check each companion's page.
Recruitment
Departure
Customizing Companions
Marriage
Strategy: Companion Combinations
Companions as Lords
3.9 Recruitment Feature
Tips
Community content is available under
CC-BY-SA
unless otherwise noted.