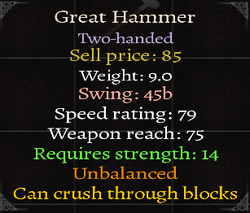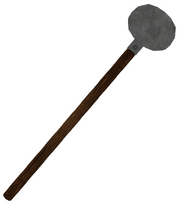 The Great Hammer is among the most powerful blunt weapons in the game, easily outpacing the one-handed Doom Mace and two-hand/one-handed Battle Hammer. While shorter than either of the former weapons, the Great Hammer still is a decent weapon on horseback, but it truly excels at close range. While Unbalanced, the weapon can crush through blocks and easily batter an opponent into unconsciousness. Any enemy in the game can be knocked out in but a few swings of this hammer. This hammer is not widely used in Pendor, and perhaps none wield it so formidably as the Order of the Ebony Gauntlet. It can often be found in merchant shops for very cheap, and considering its power has a fairly light strength requirement. It can also be found in Avendor's city chest, provided that the player owns the city.
Troops and NPCs* that use this weapon are:
*: NPCs don't drop items to the loot upon being defeated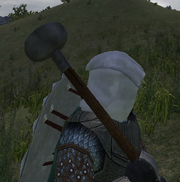 Community content is available under
CC-BY-SA
unless otherwise noted.