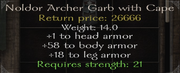 Noldor Archer Garb is the weakest of all Noldor armors, and yet it's still superior to most other armors in Pendor. It even outclasses many Knighthood Order armors. It also is available in caped variants which have the exact same armor value. Only Noldor Hunters wear this armor, but sets of it can be purchased from Quigfen and Calanon or sometimes won from tournaments in Elacrai.
Community content is available under
CC-BY-SA
unless otherwise noted.