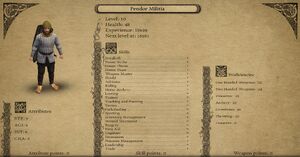 Men of the Pendor kingdom who have at least passing skill at arms, they bring somewhat better gear to the table from the recruits when a call to arms has been issued.
They don either padded leather or common clothing and wield one-handed swords paired with heater shields in battle. They are easy pickings for most foes besides other milita or the weakest of cavalry and should be upgraded as soon as possible, though surprisingly when used in a relativly large group they can at least stand up to the likes of the mystmountain raiders.
This troop is upgraded from Pendor Recruit for 10 d and upgrades into Pendor Footman for 20 d.
Community content is available under
CC-BY-SA
unless otherwise noted.