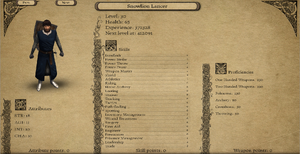 The light cavalry held in the Snowlion Brigade mercenary party. They will charge against their foes with their Long White Cavalry Lance, which will deal devastating Couched lance damage.
For close combat, they're armed with a Ravenstern Longswords, or Sarleon Longswords, and always with a heater shield (White Lion on Blue Field). They ride Blue Caparisoned Hunters.
This troop can't be obtained through upgrades nor can be upgraded.
Community content is available under
CC-BY-SA
unless otherwise noted.