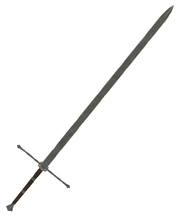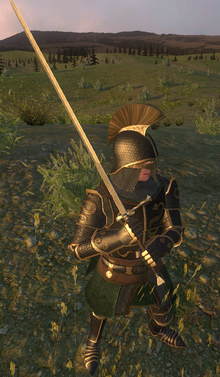 The Zweihander is a top-tier 2 handed greatsword. It's simply a massive blade that can de-horse opponents, cleave straight through most armored enemies, and generally strike fear into anyone facing the wielder. It's a rare weapon to see, as it's a weapon used by but a few footmen, all of which are uncommon to see.
One Zweihander can be obtained by the player if he captures Ethos and checks its City Chest. Zweihanders can also be sometimes found for sale in merchant shops.
These are the troops that use this weapon:
Community content is available under
CC-BY-SA
unless otherwise noted.